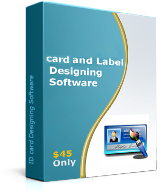 Free trial is available to evaluate ID card Maker and Label Designing Software features and working capabilities and take purchase decision as required.
Software Screenshots




Card and Label Designing Software $49 Only
Easily create attractive and eye catching ID cards by using ID card maker software. You can easily create multiple labels and cards including-
Cards- ID cards, Visiting card, Post cards, Logos and all other business cards.
Labels- Tag, Sticker, Coupons, and Ribbons.
ID card and label maker software offers advance card designing view with different image designing objects like text, barcode, arc, pencil, picture, ellipse, rectangle, triangle, and other to create industry standard ID cards. You can simply edit existing ID card/label or create best quality card in fewer clicks of mouse. Easily generate multiple labels in different shapes and colors including Rectangle, Rounded rectangle and Ellipse shape.
Now don't buy exclusive business cards and tags to fulfill your labeling needs. Use advance ID card and label designer software and design attractive and imaginative labels in fewer clicks without any expert guidance. Trial version is available on website free of cost to easily recognize all settings and advantages of software.
Software working features-
ID card maker and label designing software can easily design various customized/printable cards and labels in different formats.
Easily design multiple copies of labels and cards with different color and text values.
Design cards in Rectangle, Rounded rectangle and Ellipse shape.
Software offering advance password settings feature of label designing and creation process to prevent unauthorized software access.
Software provides advance image designing view with different designing objects including text, pencil, barcode, star, line, picture, arc, star and more.
Software provides option to easily edit created image designing settings to create Solid Color, Gradient, Image, Text and Style settings etc.
Other features-
Create multiple style cards and labels in your way.
No need to buy ID cards from market to fulfill ID card creation needs yourself.
Affordable ID card maker and label designing software.
System requirements-
Pentium Class or Equivalent Processor
RAM 256 MB
16 MB Free Disk Space
Windows 7, Windows Vista, Windows XP, Windows Server 2008, Windows Server 2003, Windows Server 2000 etc.