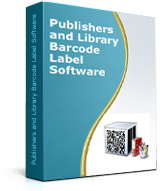 Free trial is available to evaluate Publishers and Library Barcode Label Software features and working capabilities and take purchase decision as required.
Software Screenshots



Publishers and Library Barcode Label Software $49 Only
Secure and reliable bar code software helps user to design multiple book and library barcode labels by using advance barcode designing view including image designing objects like text, line, pencil, arc, picture, ellipse, rectangle and many more. Advanced publisher and library bar code label printing software prints multiple publisher and library barcode labels in simplest way.
Barcode label maker software can easily minimize all workload of library staff members. Using barcode labels, you can easily manage library books details without any manual work.
Now no need to purchase barcode labels from market, using barcode system, you can easily create professional book barcodes in fewer clicks of mouse in minimal time duration. Try once barcode software download freeware to easily get familiar with software settings from barcode download section. If satisfied! Place order to get complete licensed version of software from website.
Supported barcode symbologies-
Linear Barcode Fonts
Coda bar, Code 11, EAN 13, EAN 8, Industrial 2 of 5, ISBN 13, Tele pen, UPCA, UPCE
2D Barcode Fonts
Data bar, Data bar Limited, PDF417
Working features of software-
Barcode creator software can easily create professional barcode labels in linear and 2D barcode font standard.
Barcode maker software provides advance barcode designing view with different designing objects like Text, Ellipse, Rectangle, Arc, Pencil, and many more.
Barcode generator software provide option to save generated barcode images in different file formats including jpeg, tiff, bmp, wmf, emf, exif and gif.
Easily create barcode label with option to specify Barcode Value, Barcode Header and Barcode Footer.
Barcode generator tool provides option to copy barcode image and paste at specified application including MS-Word, MS-Paint, MS-Excel etc.
Easily create colorful Publisher and Library uses barcodes using advance color settings.
Easily generate bar code list using Sequential Series, Constant Value Series and Random Series options.
Barcode software provides option to align Barcode Header and Barcode Footer.
Other features-
Provides barcode generator download freeware demo.
Easy to use software with user-friendly GUI system.
No need of any expert guidance.
System requirements-
Pentium Class or Equivalent Processor
RAM (256 MB Recommended)
18 MB Free Disk Space
Windows 7, Windows Vista, Windows XP, Windows Server 2008, Windows Server 2003 and Windows Server 2000 etc.


Software PAD