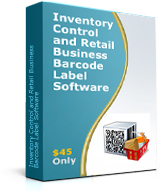 Free trial is available to evaluate Inventory Control and Retail Business Barcode Label Software features and working capabilities and take purchase decision as required.
Software Screenshots




Software PAD
Inventory Control and Retail Business Barcode Label Software $49 Only
Best barcode maker software can easily create multiple retail and inventory barcode labels, tags and stickers. Excellent barcode label maker software supports commonly used linear and 2D barcode fonts including EAN 13, EAN 8, UPCA, Code 128 etc. You can easily manage complete retail business details at single time or at single place.
Easily create barcode list using different series option like random series, sequential series, and constant value series option. No need to purchase barcodes from external source to fulfill all labeling needs of retail business. Barcode software download free trial demo is available on website to better understand software features and working capabilities.

Supported barcode font symbologies-
Linear Barcode Fonts
Coda bar, Code 128, Code 128 SET A, Code 128 SET B, Code 128 SET C, Code 39, Code 39 Full ASCII, EAN 13, EAN 8, Industrial 2 of 5, Interleaved 2 of 5, LOGMARS, MSI Plessey, Tele pen, UCC/EAN-128, UPCA, UPCE
2D Barcode Fonts
Aztec, Data bar, Data bar Code 128, Data bar Code 128 Set A, Data bar Code 128 Set B, Data bar Code 128 Set C, Data bar Expanded, Data bar Limited, Data bar Stacked, Data bar Stacked Omni, Data bar Truncated, Data bar EAN 13, Data bar EAN 8, Data bar UPCA, Data bar UPCE, Data Matrix, Maxi Code, PDF417, QR Code
Working features of barcode generator software -
Easily create barcode labels in multiple formats and get printed in tag, stickers, coupons and other similar formats.
Barcode label printing software easily creates retail industry standard barcode labels using Linear and 2D barcode font symbologies.
Bar code software provides option to align Barcode Header and Barcode Footer for best label creation process.
Easily generate bar code list using Sequential Series, Constant Value Series and Random Series options.
Generate Barcode Labels with option to specify Bar code Value, Barcode Header and Barcode Footer details.
Provides data Set Series feature to generate multiple copies of labels with different barcode and text value.
Barcode generator tool provide option to set Bar Height and Density of barcode label with Margin details (Value, Header and Footer).
Easily print multiple copies of same barcode label at single page.
Other features
Easy and simple to operate barcode software.
Doesn't require any expert guidance to access barcode system.
Barcode generator download free trial available on website to evaluate features and settings from barcode download section.
System requirements-
Pentium Class or Equivalent Processor
RAM (256 MB Recommended)
18MB Free Disk Space
Barcode creator software easily operates on Windows 7, Windows Vista, Windows XP, Windows Server 2008, Windows Server 2003, Windows Server 2000 etc.