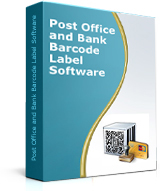 Free trial is available to evaluate Post Office and Bank Barcode Label Software features and working capabilities and take purchase decision as required.
Software Screenshots



Post Office and Bank Barcode Label Software $49 Only
Proficient bar code program can quickly create scan able and customized barcode labels in different colors, fonts and sizes for labeling postal documents and banking toolkit. Easily create barcode labels in different formats like tag, sticker, barcode ribbons and barcode bands etc. Simple and easy to use barcode label printing software provides advanced print settings to print bulk barcode labels on single paper.
Usage of barcode labels in multiple areas of banking and postal department including –
Postal department for labeling –
Speed post
Mailing letters
Parcels
Banking for labeling various documents including –
FD (fixed deposit)
DD (demand draft)
Cheque
Pass book
Withdrawal form
Now no need to purchase barcode labels from external market to fulfill barcode labeling needs. Use perfect barcode creator tool and create professional barcodes with advance barcode designing view. Try once barcode download freeware free of cost, available to download from the website to easily get familiar with software settings from barcode generator download section. If satisfied! Place order to get software licensed version.
Supported barcode font symbologies-
Linear Barcode Fonts
Code 11, Code 128, Code 128 SET A, Code 128 SET B, Code 128 SET C, Code 39, Code 93, Code 39 Full ASCII, ITF-14, LOGMARS, Planet, Postnet, USPS Sack Label, USPS Tray Label, USS-93
2D Barcode Fonts
Maxi Code, MICR
Bar code software working features-
Barcode generator software easily creates bulk barcode labels in easiest way.
Barcode label maker software supports applicable linear and 2D barcode font symbologies.
Save generated barcode label image in different file format including jpeg, tiff, gif, bitmap, wmf, bmp and many more formats for future usage.
Create inventory barcodes in fewer clicks of mouse with option to specify Barcode Value, Barcode Header and Barcode Footer using barcode creator tool.
Easily copy generated bar code images and paste at specified application including MS-Word, MS-Paint, MS-Excel etc.
Barcode system provides advanced Data Set Series feature to generate multiple copies of same barcode labels with different barcode and text value.
Using barcode software, you can easily print multiple copies of same barcode image using single page.
Other features-
Technical and non – technical user can easily operate barcode maker system.
Save your valuable time and money.
Create bulk barcodes in fewer clicks.
Barcode software download freeware demo is available on website to easily get familiar with software settings.
System requirements-
Pentium Class or Equivalent Processor
RAM (256 MB Recommended)
18 MB Free Disk Space
Barcode generator system support all major OS like Windows 7, Windows Vista, Windows XP, Windows Server 2008, Windows Server 2003 and Windows Server 2000 etc.